Mission Statement
Cholangiocarcinoma-UK, an affiliate of the British Association for Study of Liver Disease (BASL), is a multi-disciplinary Special Interest Group (SIG) of clinicians, scientists and patient advocates whose purpose is to facilitate collaborative research, enhance service development and raise awareness of Cholangiocarcinoma.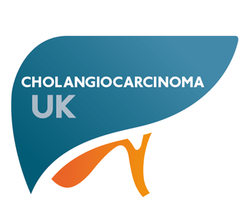 Aims of Cholangiocarcinoma UK
• Be the recognised leading authority on Cholangiocarcinoma in the UK
• Become affiliated to other relevant major national organisations e.g. BASO, BSG
• Facilitate basic science and clinical research as well as sample collection, including for biomarker development
• Improve the pathway to collaborative clinical trials and opportunities for research funding
• Update national guidelines and advise on policy and best practice
• Optimise and standardise clinical management across the country
• Monitor epidemiological trends accurately.
Resources
Annual reports
Annual report 2018-19 - Download Annual report_2018-19_CCA-UK.pdf.
1st meeting - 7 December 2018
Report - Download BASL_BSG report_Summary_Outcomes_CCA-UK Meeting 7 Dec 2018_FINAL.pdf.
Welcome presentation, Shahid Khan, St Mary's Hospital, London - Download Welcome.pdf
Presentation on the patient/healthcare professional partnership, Helen Morement, AMMF - Download The patient_healthcare professional partnership.pdf
Presentation on Epidemiology and aetiology: What we don't know & how can we find out, Shahid Khan, St Mary's Hospital, London - Download Epidemiology and aetiology_What we dont know and how we can find out.pdf
Presentation on Ensuring quality: Centres of "excellence/expertise"?, Hassan Malik, Aintree University Hospital Download Ensuring quality_Centres of excellence and expertise.pdf
Presentation on Medical oncology: The unmet needs and how we meet them, John Bridgewater, UCL & Juan Valle, Christie NHS Foundation Trust - Download Medical oncology_The unmet needs and how we meet them.pdf
Presentation on Clinical oncology: Establishing novel roles in CCA therapy, Maria Hawkins, University of Oxford - Download Clinical oncology_Establishing novel roles in CCA therapy.pdf
Patient representation
The AMMF is represented on the CCA-UK Steering Committee and is the UK's only cholangiocarcinoma charity - http://ammf.org.uk/.
Global CCA Alliance
The Global Cholangiocarcinoma Alliance (GCA) has united to establish a global voice in CCA through community collaborations. The GCA has a shared vision to raise the awareness of CCA, in order to improve prevention, survival and the quality of life of CCA patients globally. CCA-UK is a partner in this Alliance. For more information, visit https://globalccaalliance.com/en.
Latest News
Follow CCA-UK on Twitter - @ccaukgroup.
The Cholangiocarcinoma-UK Committee
| | |
| --- | --- |
| Chair | Shahid Khan, Imperial College London |
| Secretary | Derek Manas, Freeman Hospital, Newcastle upon Tyne |
| Basic science | David Bates, University of Nottingham; Chiara Braconi, University of Glasgow |
| Clinical oncology | Maria Hawkins, University College London |
| Endoscopy | Steve Pereira, University College London |
| Hepatology | Simon Rushbrook, Norfolk & Norwich Hospital |
| Medical oncology | Chiara Braconi, University of Glasgow; John Bridgewater, University College London; Juan Valle, University of Manchester |
| Pathology | Tim Kendall, University of Edinburgh |
| Patient advocate | Helen Morement, AMMF |
| Surgery | Hassan Malik, Aintree University Hospital, Liverpool; Nigel Heaton, Kings College London |
| Trainee representatives | Pilar Acedo, University College London; Leonard Marc Quinn, University of Liverpool |