Mission Statement
Cholangiocarcinoma-UK, an affiliate of the British Association for Study of Liver Disease (BASL), is a multi-disciplinary Special Interest Group (SIG) of clinicians, scientists and patient advocates whose purpose is to facilitate collaborative research, enhance service development and raise awareness of Cholangiocarcinoma.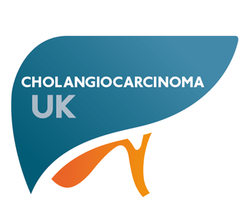 Aims of Cholangiocarcinoma UK
• Be the recognised leading authority on Cholangiocarcinoma in the UK
• Become affiliated to other relevant major national organisations e.g. BASO, BSG
• Facilitate basic science and clinical research as well as sample collection, including for biomarker development
• Improve the pathway to collaborative clinical trials and opportunities for research funding
• Update national guidelines and advise on policy and best practice
• Optimise and standardise clinical management across the country
• Monitor epidemiological trends accurately.
Resources
1st meeting - 7 December 2018
Report - Download BASL_BSG report_Summary_Outcomes_CCA-UK Meeting 7 Dec 2018_FINAL.pdf.
Welcome presentation, Shahid Khan, St Mary's Hospital, London - Download Welcome.pdf
Presentation on the patient/healthcare professional partnership, Helen Morement, AMMF - Download The patient_healthcare professional partnership.pdf
Presentation on Epidemiology and aetiology: What we don't know & how can we find out, Shahid Khan, St Mary's Hospital, London - Download Epidemiology and aetiology_What we dont know and how we can find out.pdf
Presentation on Ensuring quality: Centres of "excellence/expertise"?, Hassan Malik, Aintree University Hospital Download Ensuring quality_Centres of excellence and expertise.pdf
Presentation on Medical oncology: The unmet needs and how we meet them, John Bridgewater, UCL & Juan Valle, Christie NHS Foundation Trust - Download Medical oncology_The unmet needs and how we meet them.pdf
Presentation on Clinical oncology: Establishing novel roles in CCA therapy, Maria Hawkins, University of Oxford - Download Clinical oncology_Establishing novel roles in CCA therapy.pdf
Patient representation
The AMMF is represented on the CCA-UK Steering Committee and is the UK's only cholangiocarcinoma charity - http://ammf.org.uk/.
Global CCA Alliance
The Global Cholangiocarcinoma Alliance (GCA) has united to establish a global voice in CCA through community collaborations. The GCA has a shared vision to raise the awareness of CCA, in order to improve prevention, survival and the quality of life of CCA patients globally. CCA-UK is a partner in this Alliance. For more information, visit https://globalccaalliance.com/en.
Latest News
BASL has set up a number of Special Interest Groups (SIGs), which are linked to the NIHR's Clinical Research Network (CRN) topic areas. CCA-UK has been active for one year, with an initial lead appointed by the BASL Committee. BASL is now seeking nominations for an elected Lead for this SIG.
Eligibility requirements
· All nominees should be members of CCA-UK, as a BASL member or as an associate member of BASL through being a member of the SIG
· Each nominee should have a proposer and seconder, who should also be BASL members or associate members through CCA-UK
· The initial Lead can stand for election once
· Should a contested election be held, BASL / CCA-UK members may vote in this
· The elected Lead will serve for two years, when there will be a further election.
Nomination process
· Please send nominations to the BASL Secretariat at Samantha@basl.org.uk by 17:00 on 21 June 2019
· If more than one candidate is nominated, the Secretariat will arrange for an election, in which all BASL / CCA-UK members may vote
· Should an election be required, candidates will need to submit a personal statement of up to 300 words
· The successful candidate will be elected by a simple majority of those members voting
· Any queries should be addressed to Samantha@basl.org.uk.
About CCA-UK
CCA-UK is linked to the Cancer CRN topic area. The SIG comprises members from a variety of disciplines. Further information may be found elsewhere on this page.
The role of the SIG Lead
A SIG is expected to meet at least once a year. The BASL secretariat provides administrative support for SIGs, which includes creating and maintaining SIG member databases, arranging meetings and associated materials, and arranging publicity.
The role of the SIG Lead includes:
· Chairing SIG meetings and co-ordinating actions to be pursued
· Helping to co-ordinate bids for funding for trials and other research, and linking with the NIHR and other funders
· Ensuring the SIG is recognised and supported within the Cancer CRN topic area
· Participating in meetings of the BSG / BASL Liver Research Development Group, which usually meets three times a year in London
· Reporting on SIG activities to BASL, in particular via liaison with BASL's Research Subcommittee.
Follow CCA-UK on Twitter - @ccaukgroup.
The Cholangiocarcinoma-UK Committee
| | |
| --- | --- |
| Chair | Shahid Khan, Imperial College London |
| Secretary | Derek Manas, Freeman Hospital, Newcastle upon Tyne |
| Basic science | David Bates, University of Nottingham; Chiara Braconi, University of Glasgow |
| Clinical oncology | Maria Hawkins, University of Oxford |
| Endoscopy | Steve Pereira, University College London |
| Hepatology | Simon Rushbrook, Norfolk & Norwich Hospital |
| Medical oncology | Chiara Braconi, University of Glasgow; John Bridgewater, University College London; Juan Valle, University of Manchester |
| Pathology | Tim Kendall, University of Edinburgh |
| Patient advocate | Helen Morement, AMMF |
| Surgery | Hassan Malik, Aintree University Hospital, Liverpool; Nigel Heaton, Kings College London |
| Trainee representative | TBC |