WELCOME TO THE BRITISH ASSOCIATION FOR THE STUDY OF THE LIVER
Thank you for supporting BASL2020. Presentations from the Virtual Annual Meeting will soon be available through the On Air events portal using your registration log on.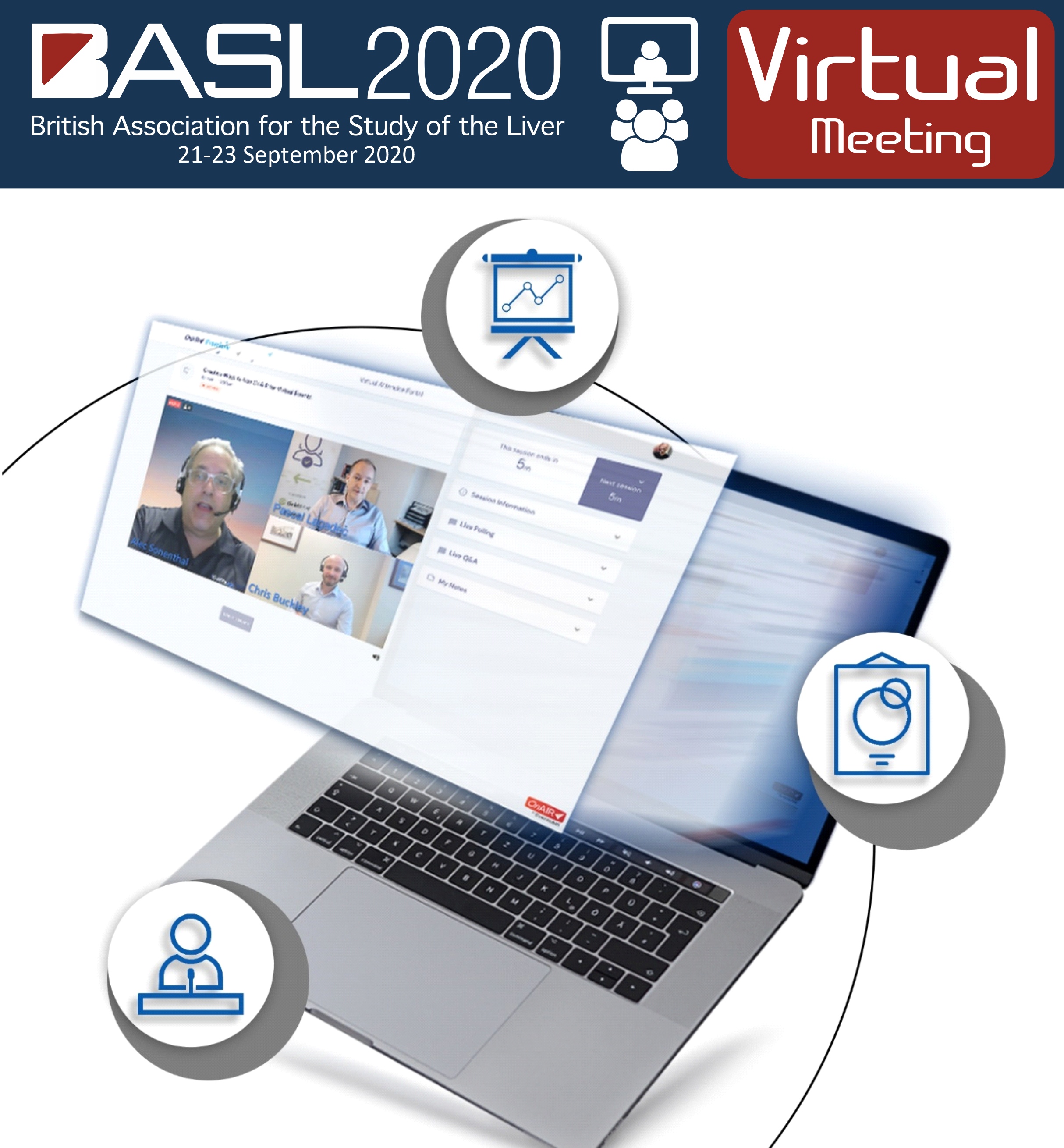 BASL2020 Virtual Annual Meeting
BLNA Nurse Forum - 25th September - Registration Open
Immune SIG meeting - 30th September 2020
End of Life SIG Meeting - 8th October 2020
COVID-19 Updates
BASL President's Vlog - January 2020
BASL2020 VIRTUAL ANNUAL MEETING
21st - 23rd September - registration CLOSED
We are looking forward to the BASL2020 Virtual Annual Meeting - Monday 21st - Wednesday 23rd September. Programme sessions will be held across the afternoons of the 3 days which includes the Annual Business Meeting for members on Wednesday. Register > here . Download a programme > here . Registration is also open for the BLNA Virtual Forum taking place on Friday 25th September from 13:30 - 15:30 Register > here .

BASL VIRTUAL ANNUAL MEETING
REGISTER HERE

BLNA VIRTUAL
FORUM

BLTG
MEETING
DETAILS FOLLOW

BASL AND BASL SUB-GROUPS
| | |
| --- | --- |
| | The British Association for the Study of the Liver is a multi-disciplinary society with around 900 members composed of interested individuals from clinical medicine, clinical and basic research and allied professions. |
| | British Liver Nurses' Association is a professional nursing organisation aiming to develop knowledge and understanding of liver disease, in order to improve the quality of patient care. |
| | The British Viral Hepatitis aims to improve the management and study of patients with chronic viral liver disease, bringing together UK hepatologists, gastroenterologists, infectious disease physicians, virologists and interested epidemiologists. |
| | The BLTG (British Liver Transplant Group) was launched in 2014 to represent the professional interests of liver transplantation in the UK and promote strategic and academic development. The BLTG will foster close relationships with BTS (British Transplant Society) and LICAGE (Liver Intensive Care Group of Europe) and will build on the role of the UK and Ireland Annual Meeting by delivering structure and authority to the group. |
| | Is a professional pharmacy organisation aiming to develop knowledge and understanding of liver disorders including viral hepatitis, in order to improve the quality of patient care, through medicines optimisation, collaborative and multi-disciplinary working and promoting patient-focused research. |
| | HCC UK is a multi-disciplinary organisation aiming to promote collaboration in research, education and clinical service development for primary liver cancer. We bring together leading oncologists, liver surgeons, hepatologists, basic scientists, radiologists, pathologists and specialist nurses to lead improvement in the quality of patient care. |