Annual Meeting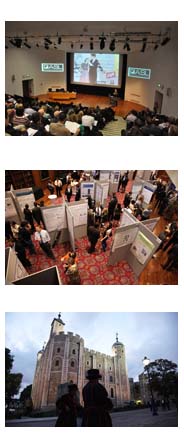 The BASL Annual Meeting is the highlight of the BASL calendar and the main liver meeting in the UK. Eminent UK and overseas speakers converge to deliver an informative and exciting meeting over three days, which for 2014 will take place Monday 15th - Wednesday 17th September 2014 at the Hilton Newcastle Gateshead.
The outline programme for the main meeting is as follows:
Monday 15th September:
Viral Symposium
DILI Symposium
Ralph Wright Lecture
Genetic Liver Diseases Symposium
Women in Hepatology meeting
Tuesday 16th September:
Grand Round
Free Paper Session
Sheila Sherlock Lecture
Best of British National Studies
President's NAFLD Symposium
Wednesday 17th September:
Free Papers
BASL Annual Business Meeting
Complications of Cirrhosis Symposium
Transplant Symposium
The programme will also include the British Liver Trust Lecture, five industry sponsored satellite symposia and the poster viewing session.
BASL Nurses Forum Annual Meeting
The BASLNF Annual Meeting will take place on Tuesday 16th September, sessions running in parallel to the main meeting.
Programme will follow shortly.
Dame Sheila Sherlock Research Prize
Closing date for submissions: Midnight on Sunday, 8th June 2014.

One of the highlights of the BASL Annual Meeting is the presentation of the Dame Sheila Sherlock Research Prize. The winner of the award will deliver a 30 minute lecture presenting their research during the Annual Meeting on Tuesday 16th September.
In addition to the lecture presentation, the winner will receive free registration to the meeting, a place at the annual dinner and £1,000.

Dame Sheila was involved in the foundation of the British Liver Club in 1961, which subsequently evolved into The British Association for the Study of the Liver (BASL). This eponymous research prize is awarded to young investigators without substantive posts in either medicine or science for their research contributions in the field of Hepatology.
To Apply
Send one A4 sheet detailing your research and another A4 sheet detailing your publications. All applications will be reviewed by a BASL committee. Please send submissions to the BASL Secretariat via email at admin@basl.org.uk
Sponsors
We would like to thank our sponsors for their continues support of BASL for the Annual Meeting 2014:
Gold Sponsors:
AbbVie
Bristol Myers-Squibb Pharmaceuticals Ltd
Gilead Sciences Ltd
Janssen-Cilag Ltd
Norgine Pharmaceuticals Ltd
Silver Sponsors:
Exhibitors:
If you would like to discuss sponsorship options, please contact the BASL Secretariat on admin@basl.org.uk or call 0845 521 0272.
You can DOWNLOAD the sponsorship packages here. Bespoke packages can also be created to match your requirements.
Members can access photos, abstracts and reports from previous meetings in the Resources section of the BASL online Clinical Community. Join now to access